This Monday we are launching The Musicality Podcast: a new show dedicated to helping you level-up your musicality and gain new freedom and confidence in your musical life. To celebrate the launch we're running a big giveaway contest with an amazing array of prizes to be won!
Over the last couple of months we've been planning and preparing for this new podcast and I've been interviewing some of the music educators I admire most, to pick their brains and share their top tips and strategies that can help you feel more like a "natural" musician. I've also dug deep into their own backstories so that you can see that even some of the most impressive musicians weren't born "gifted" but actually learned their core skills of musicality step-by-step.
I've been really honoured to be joined on the show by an amazing lineup of inspiring experts and I can't wait to share these episodes with you.
Upcoming guests include: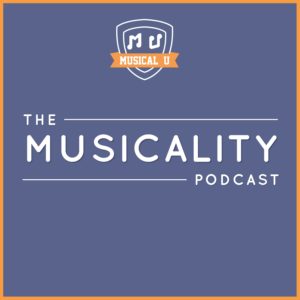 … and a whole bunch more which I would love to announce – but we have to keep some surprises in store! ;)
We'll also be offering shorter episodes where I cover a particular topic, such as:
Playing from a lead sheet
Whole and Half Steps
Solfa 101
Perfect Pitch vs. Relative Pitch
Starting to sing in tune
Recovering from mistakes and overcoming stage fright
Mindfulness and self-talk
I'm so excited for the episodes we have lined up and really wanted to make a big splash with the launch on Monday. Our guests have shared such interesting and valuable insights I want to make sure their episodes reach as many musicians as possible…
So what better way to make a splash than with a huge prize giveaway!
A big thank you to our podcast guests who've contributed prizes for this giveaway. It's a seriously powerful bundle of goodies to upgrade your musicality…
Big Prize Giveaway!
First Prize (worth over $500!)
4 Runner-up Prizes (each worth over $300!)
We also have a powerful combo for four lucky runners-up! As Steve Myers, founder of Theta Music, explains in his upcoming episode: Theta Music Trainer games work best with a bit of explanation and that's why we feel they're a perfect companion to Musical U membership.
Four runners-up will win:

How to Enter…
The giveaway contest officially launches on Monday 11th September and you'll be able to enter on this page. We'll be picking the winners at midnight Central Time on Sunday 1st October and announcing them on Monday 2nd October.
To make sure you don't miss it you can follow us on Facebook and Twitter.
Oh, and there's one other way…
Podcast Insiders
A few weeks ago we opened our Podcast Insiders program. It's a free email signup to get behind-the-scenes info and exclusive bonuses related to the new podcast. So far over 400 people have joined Podcast Insiders and they've been hearing about the exciting/challenging/crazy process of launching the new podcast.
They're also getting bonus entries in the contest as our way of saying thanks for being part of this new project with us. And they get early access to our special "podcast listeners" offer for Musical U (more info below).
Want to be a Podcast Insider? Sign up free right here:
→ Sign up for Podcast Insiders
Special Offer for Podcast Listeners
The new Musicality Podcast is going to provide a really intimate way to get to know Musical U and the way we teach so we think podcast listeners are going to naturally be people who are a great fit for MU membership.
That's why we're setting up a special offer for podcast listeners to join Musical U. But not only that, we're going big for the launch. During the month of September that offer is going to be wackily-good.
Want to know more? We're giving Podcast Insiders early access to this special offer. Sign up to get all the details.
---
Finally the launch day is coming and we're delighted to be able to celebrate it with a big giveaway like this. Thanks again to our amazing guests who've contributed these exciting prizes. Go ahead and opt in for Podcast Insiders to make sure you don't miss the instructions for entering the contest on Monday – and good luck!