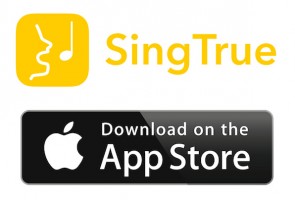 SingTrue can teach anybody to sing in perfect tune. Even if you think you're tone deaf!
"Amazing, effective and user friendly" — AppPicker.com
"Voice training just got a whole lot easier and less expensive" — PreApps.com
Worried that you have a bad voice?
Always told you're out of tune or off-key when you sing?
Many people think they can't sing because they don't have "natural talent" or weren't born "musically gifted". The surprising truth is that anybody can learn to sing well, even those who feel totally unmusical.
SingTrue helps you discover your inner musicality and gain control over your voice to become a natural, confident, powerful singer.
App Store Reviews:
"Everything I wanted in an app I found on this one! It's easy to use and the exercises are great, I can already feel difference in my singing voice"
— 5 stars, Courteney S, USA
"Definitely recommend this to anyone who worries at karaoke time!"
— 5 stars "Always-thinking", UK
HOW SINGTRUE WORKS
SingTrue features over 30 interactive exercises that help you learn to sing easily, confidently and in perfect tune. By using the iPhone microphone and sophisticated signal processing, the app analyses your singing and provides personal feedback on how you can improve.
Spend a few minutes practicing with the app's exercises every day and you will rapidly become a capable, confident singer.
If you are already a musician, the app will train your voice and your ears to help you become more confident, more creative, and more musical. In fact, the advanced exercises will help you recognise notes by ear – enabling you to play by ear, write your own music, and improvise freely on your instrument.
The exercises have been designed by experts, in consultation with some of the leading vocal teachers in the world. Building on the success of the RelativePitch ear training app (featured by Apple and used by over 200,000 musicians) and the Tone Deaf Test (4.5-star rated app used by 80,000+ people), SingTrue has been developed to help more people discover their inner voice and naturally become sensational musicians.
FEATURES
SingTrue develops your Voice, Ears and Mind for singing
Uses the iPhone microphone to analyse your singing and gives personal feedback
Over 30 different exercises to explore, with more coming soon
Listening examples provided by professional singers
Track your progress in detail and see your voice improving
Share your achievements with friends on Facebook, Twitter or Email
COMMON QUESTIONS
Q: What if I'm tone deaf?
A: Don't worry! You probably aren't. Over 40,000 people have taken our Tone Deaf Test, and just 2% have proved to be genuinely tone deaf. Still worried? Search the App Store for our free "Tone Deaf Test" app.
Q: Is this just for people who like singing?
A: No, SingTrue has been designed for singers and non-singers alike.
Q: Can you really learn to sing in tune?
A: Yes, it's simply a matter of learning pitch sensitivity (ears) and vocal control (voice).
Q: What if I can already sing?
A: SingTrue can help you become more accurate, more expressive and more confident.
App Store Reviews
"This app is great way to learn to sing and to prove to my husband that I'm not tone deaf!"
— 5 stars, Bardils, UK
"This app is incredibly useful both to the beginner and to the pro singer. Bravo!"
— 5 stars, Richard E, UK
"I'm not a good singer by any means but with this app I think I finally have a chance to learn. It's been a few hours and I already can notice an improvement. Can't wait to see where I'll get when I have completed all levels."
— 5 stars, Peter, UK
Learn more and see the app in action!
Reviews of SingTrue
Harper Mai Fitzpatrick
"Sing Tune has helped me a lot with my singing. I have realised that it is very hard to recognise notes and sing in key as well as the right pitch but I could not have done it without the help of this awesome app. I love how it has different sections where you can do any you want like ear, eye and voice. I would recommend it to anyone at the age of 12+. [Younger children won't under stand what they are doing.] So jump on it now and you will be staring in Pitch Perfect by the end of the year. I'm half way there. Ha Ha Ha. P.S it helps as well with instruments. Knowing what one you are playing defiantly helps."
Sconta38
AU
31 August 2015
Beautifully designed and amazingly good
"Wow definitely the best singing app in town. It works on all the major elements of singing – ear training, pitching and breath control – in a fun accessible way. Highly recommended."
sebcat
GB
25 August 2015
Simple. Effective. Fun!
"I've just started using the app, but it's already helped me pay more attention to the differences in notes (which I was pretty terrible at) I like how their are both listening exercises and singing exercises as well–a well-rounded app and a ton of fun to see yourself improve!"
Lovestortugas
US
25 July 2015
SingTrue
SingTrue has really helped me improve my projection and ear. Everyone in my singing group is using this app. I highly recommend it!
Sunstar1
US
19 July 2015
Wow.
"If you like singing, then you must get this app! It helps you find ""your note"" – the note you naturally sing when you're relaxed. You have to recognise different notes using names. You may have heard of: do, re, mi, fa, so, la, ti and do! I've finished all there is so far…18/18. I've purchased infinite hearts. [PLEASE update and load more modules!!]"
Kevin Harcourt
GB
15 July 2015
Great Application!
"I as a beginner in singing really like this App, it's perfect for me to start to learn singing. What i would like to get is the ability to interchange my profile between multiple devices. Except for the last point,] a perfect app!Really excited about following contents!"
BlastingAgents
DE
10 June 2015
Great for kids and adults!
"I'm a music teacher, and I use this app every day with my students; they love the immediate feedback and scores they receive. I love that it gets them working on matching pitch and using a singing voice without embarrassment. For myself, I love using the relative pitch quizzes for ear training practice, and the ""find your note"" module to check my ability to produce a certain pitch when needed. This app is one of the best uses of technology in a music classroom I have ever tried, and it has given great results with my kids this year."
frankncents
US
10 May 2015
Awesome app
I've tried a number of singing apps and I have to say this is one of the best. I'm still in the early stages (I need a lot of help) but I like how it's going and how it progresses from easier to harder.
Tonee30
US
30 March 2015
Amazing app!
Such a great app! It has really helped me to boost my confidence and my singing ability. I would definitely recommend it to anyone who maybe wanted to develop their voice on their own terms or in private.
K_J_G
GB
9 March 2015
Love it
"I've never really had any confidence in the tune of my voice, but this app has helped a lot with that. I'm thankful for the life limits as well or else I might end up trying to hit a right note for hours. Good app for learning the basics of sing IMO."
Almost didn't do this
US
24 February 2015
Enjoying it!
"I bought the app to help with my singing and pitch. I really like it. My husband, who's very gifted in music really liked it too and has commented that it's a perfect program for my needs"
Tfranny
US
6 February 2015
Awesome!
I'm a singer and have always wanted formal lessons but as a student and part time worker have found it difficult. But this app has made it possible. I've been hooked since downloading a week ago and after going through all the free modules purchased the entire set of lessons. I like that it's not a moderate level of difficulty but really pushes you and trains your ear. I definitely recommend.
ActIn2:38
US
5 February 2015
Have really seen an improvement in my singing and playing!
I am an amateur harpist and got this app to help me learn to hear songs in my head while reading sheet music. I have noticed a remarkable improvement in my ability to discern which notes are which and to hear notes in my head. As a bonus my singing has improved to the point where I am able to hear and sing notes clearly and with consistency so I actually sound reasonably acceptable. I have bought the full package [and am looking forward to more updates in the future!]
Onmypocket
US
3 February 2015
Love it!!!
"Omg, I've always had this huge dream of being a great singer and I've been trying to be one for thirteen years, now, but nothing was working. This app was literally the only thing that helped me. I finished all of the lessons in less than ten minutes, and when I was done, my voice was strong and I couldn't believe the improvement. Best. App. Ever."
EAKbean
US
23 January 2015
Amazing!
I have never believed that I could sing. I have always been afraid to sing where anyone could hear me. The computer doesn't seem to mind all the mistakes that I make. I am amazed at the progress I am making and this app allows me to see that progress. I practice every day because it is fun!
Koni1961
US
29 December 2014
Amazing app!!!
This app is amazing!!! It teaches you about everything there is about pitch. It has helped me to become a better listener and my voice has already made improvement with 6 days since Ive had it. I recommend you download this. Can't wait for the updates that they will add :D
Hooleeoh
US
25 October 2014
Really useful tool!
This app is incredibly useful both to the beginner and to the pro singer. The pitch target practice game particularly is very revealing! Bravo! And I'm eagerly awaiting the next stages
WillyEteson
GB
23 October 2014
Fantastic app for learning how to sing
I'm not a good singer by any means but with this app I think I finally have a chance to learn. It's been a few hours now I've spent on it and I already can notice an improvement. Can't wait to see where I'll get when I'll have completed all levels.
Peter8383794
GB
23 October 2014
"Beautiful
fun and useful!",This app is great way to learn to sing and to prove to my husband that I'm not tone deaf! I can't stop using it – not sure if the neighbours are enjoying it as much as me ;-) It's a beautiful app with a clean and easy to use interface. Thanks!
Bardils
GB
22 October 2014
Easy to use and makes a difference
Everyone who knows me says I can't sing and I'd given up hoping it could be otherwise. Even in a short time with this app I can hear my improvement and I can't wait to prove people wrong.
greatneb
GB
22 October 2014
Great way to practice your singing
"As a singer teacher and choir master I find this app a helpful tool to complement the new singers practice, great to practice their pitch and also understand how important is the breathing to sing, I can't wait to see the next levels and modules. I hope they keep coming more challenging."
Natalia Contreras-Munoz
GB
21 October 2014
Nice
And fun
도라몽구
KR
6 September 2015
I ❤️ IT
I ❤️ this app because it really helps you sing better and it has great vocal excersises for your [voive] voice to get bettter.
Amy Estefany
US
5 September 2015
Really great
It does exactly what its says its helped find better singing technique naturally and i can find my tone in which i sing and its helped me with notes.
Ize3
GB
4 September 2015
Great
Just started using it today I am so into the app
Chrizzyopoku
US
30 August 2015
WOW!
The BEST singing app yet! :D Thank you! And it's all free!????
Ashlyn Dvorak
US
29 August 2015
很不错!
真的好!有帮助!
晶晶沉香
CN
27 August 2015
Fun app
"It's been really fun so far. I appreciate being led through simple exercises, cause I'm a total beginner."
IMNoSinger
CA
24 August 2015
Good app
Good one
I am known
LK
17 August 2015
Buena!!!
Si te gusta cantar y no entonas bien la canción esto puede ayudarte
Vickita68
MX
12 August 2015
Usefull app
"I like this app, usefull and helpful"
Huben92
ID
9 August 2015
Good
It helps me a lot
Stargodfish
US
9 August 2015
Great!
Really good app.
Cindyeuqinom
US
7 August 2015
Grymt effektiv och enkel
"Denna är grymt effektiv och enkel för att träna tonsäkerhet, både för lyssning och för sång. Det är enkelt att komma igång och finns många övningar. Dessutom grymt att det går att testa gratis! :)"
Ockepocke
SE
7 August 2015
great app
<3
nickzssafddg
US
6 August 2015
Great!
I just got this app today and already can feel and hear an improvement in my pitch. This a great app that any singer would want to help with pitch control and voice.
Wowwowowowmeowmeowmeow
US
5 August 2015
Good
I got the free version and then paid $3.79 for infinite lives and then $9.99 for an all unlock pack and I couldn't be happier. Well structured app that is good for the beginner but not annoying for people that understand music. I'm using this app more as an ear training tool mostly but will use the other features as I get better at holding a pitch. What would be good
Jazzazza71
AU
5 August 2015
Great
Real great
Human version
US
2 August 2015
DEFINITELY helped my tone.
"I can hold a note for much longer, stay on target, and sing in the right pitch! Incredibly helpful!! ☺️"
Awesome+helpful!
US
2 August 2015
Fun
Really fun so far
emilyhumphrey92
CA
27 July 2015
I Love It!
"It Is Great For Starting Out. I Was Wanting To Take Singing Lessons And I Found This App. I Fell In Love With It The First Day. [The Only Part I Don't Like Is That You Have To Buy Stuff. Other Than That] GREAT APP!Sincerely,Allison"
AlliLoulou09
US
27 July 2015
Really like it
Like it
Colon CF
US
22 July 2015
A great way to build confidence in singing!
I am enjoying each lesson. It is like playing a game and you are your own competition! A nice way to improve pitch and tone!
Something fun!
US
11 July 2015
Progressif et utile
J'ai commencé il y a une semaine. A ce stade permet de travailler mon oreille avec des exercices progressifs et courts.
Chachabs
FR
28 June 2015
Fun and helpful
I'm an aficionado soloist and really enjoy this app. Very engaging and helpful.
Packnplay
US
22 June 2015
Sing
I love it
Chockolatqueen
US
19 June 2015
Great app!
Easy to use! Love it so far!
KatWest
US
18 June 2015
I LOVE THIS APP????????
Keep up the good work????,"1039483&$
8:88:&:&:8:"
US
16 June 2015
Excelente
Una aplicación muy útil
Cabezag74
DO
12 June 2015
REAL REVIEW: AMAZING
I love this app so much it has helped me tremendously! This is a real review from a REAL person. Some on here may not be but this one is.
υѕєя2:ρ
US
9 June 2015
Muy buena
Muy buena aplicación [ojalá expandan su contenido pronto]
Juanrrrrrrrrrrrrr
CO
5 June 2015
Great app!
"I just started using the app about a week ago. I have yet to see improvements, but it's very helpful."
MarzOrMario
US
31 May 2015
T
"Awesome, it makes learning easy and enjoyable. This wonderful app is a joy. I took a look now I'm hooked."
Garewayne
US
28 May 2015
Great
Has a good training program.
qtflurty
US
22 May 2015
Great app!
Great app!
Crmcrm mr
US
16 May 2015
Pitch!
It gives you the pitch you sing most comfortable in! I like it and recommended for my beginner praise team singers.
Ke Wi
CA
15 May 2015
Love this app
This app is so much fun I love it and feel like I'm learning from it as well.
Dezzz13w
US
14 May 2015
SingTrue
"Great app! Really helps with strength and sustain on notes, and it goes at your pace. [Hint: if you run out of stars right away, go in settings, general, date and time, and skip ahead one day. Stars: Refilled! ⭐️⭐️⭐️]"
Mimm456789
CA
7 May 2015
So far so good
I am just getting started with this app but so far it is proving to be helpful.
Baldie102
US
2 May 2015
Bellissima!!
fantastica!!! La consiglio a tutti!!
Gatta33
IT
26 April 2015
good
nice,easy,helpful
Veraj123
CN
25 April 2015
SingTrue
"So far, so good! Well structured. Currently up to Minor Pentatonic recognition … putting me through my paces and well worth the ""in app"" purchase."
hoola100
AU
10 April 2015
Fantastic
I cant. Even sing and i see major improvements
Smooth02ai
US
3 April 2015
Great fun and good practice
"I'm trying to improve my singing, note and pitch recognition and so far this is a great app."
Flats72
GB
24 March 2015
I love it
This app is the best I love the way it grades you on how you did
Hogany04
US
22 March 2015
I'm a beginner
I've just been talked into joining a choir and feel I need to know more about my voice. So far this app is giving me feedback that I can use so it is meeting my needs. I will continue to use it.
Cedarjak
CA
17 March 2015
Love it!
This app has taught me a lot. Let's me hear how my voice sounds.
DivaDivine496
US
12 March 2015
Good
It's good but it could be way better like no more limited lives and better methods
Wasup hello
IE
12 March 2015
很不错,有意思
好有意思,准备买下内购
湘灵游魂
CN
8 March 2015
Fun
Fun and helpful
Stan514
US
2 March 2015
Very nice app
"Good stuff, especially for free. Thanks!"
jaiholover
US
27 February 2015
Loving it!
Nice app for singing! Cannot wait for more updates!
Misslemongrass
IT
20 February 2015
Good
Nice app
Mr.Delgado96NY
US
14 February 2015
Great app
"Unlike most free apps that are just interesting enough to get you to download so they can hit you with advertisements, this one is actually legit"
Evs mama
US
13 February 2015
Great music app
I have tried many music apps over the last few years. This is one of the best.
Mike Allen
GB
9 February 2015
Useful
Its very useful and cool i like it
Kevinrexy
ID
3 February 2015
Amazing
This is so good helped me learn how 2 sing in a steady pitch quickly
Bhavy24
GB
24 January 2015
Great app
Good to thin out the voice..
Erniel el pharaon
US
18 January 2015
めっちゃいい
2週間前より本当に上手になりました。すごい。
サウビー
JP
17 January 2015
Loving it!
Nice app for singing!
Misslemongrass
IT
14 January 2015
My level
I tried a number of learn to sing apps and most of them were either way too hard or simply boring. I love that this app starts at my level and goes at my pace.
AnnaLilliman
CA
10 January 2015
Fun
"It is interesting, fun and trains well!"
Pajraj
HU
9 January 2015
"Fun
easy & helpful",This is a great app for all the shy singers who are convinced they can't hit a note. Easy to use and helpful exercises.
OconnorHeightsHigh
AU
28 December 2014
Love it! Keep adding to it!
"I love this app, [plsase add more excercises.] The interface is fun and the way it tracks the progress is intuitive. Expand and make it bigger!"
Fredo622
US
20 December 2014
I Really Like But…
"Amazing app, [but needs updates quicker with minor and chromatics,] then it will be prefection!"
Pansystansy
US
18 December 2014
Easy & Enjoyable
This app is easy to use & seems to be helping my vocal control.
Allen9000
AU
11 December 2014
Fun and useful
"Enjoyable approach to internalizing music. A good combo of visual and audio, great feedback and lots of opportunities to practice."
Bill Gathen
US
10 December 2014
Love it
It's great and I enjoy using it .
Luxephotonerd
US
8 December 2014
Helpfull
I like the app it's been very helpfull
Salisinha
US
7 December 2014
helpful!
"great app to teach my husband and i on how to sing we always fought on how terrible his pitching was hahaha"
zarinacomel
MY
7 December 2014
The Best!!!
An awesome app
Gottagetsome
US
7 December 2014
Sing
I find the app entertaining and helpfull.
Greechan
GB
5 December 2014
Wow.
"This is absolutely amazing and mindblowing, the fact that this app is free. Really do encourage to use!!"
Arsenic singer
US
3 December 2014
Fun way to learn to sing
"This game is full of challenges that help you learn to sing, identify notes, and learn solfege."
Drummerkat
US
27 November 2014
Great app!
"A great app, on the same level as what we've come to expect from this team!"
renaudpenant
US
19 November 2014
Excelente
Muy buena y divertida :) me encanta.
Sol Perez
MX
12 November 2014
Great app!
I enjoy using this app; I just have to keep using it in order to improve my thinking.
B $tro
US
7 November 2014
Not a singer…
Like the feedback I get. Helps me find and hold tones. Tracks progress. Good thus far.
Random Hack
US
1 November 2014
Kiinnostava lauluappi
Hyvä väline oman laulun tutkailuun
Effident
FI
29 October 2014
More modules please!
"Wonderful app, can't wait to get more modules. I've aced the relative pitch app but still having trouble hearing whole melodies. I think this app is going to do the jobb once there will be more modules."
Ballabalfe
SE
28 October 2014
I Really Like But…
"I have been looking for an app like this for a long time, but I'm hoping this is t a scam to buy their products which are out of my price range now, plus this really needs a lot more modules. I went through this is a day."
Pansystansy
US
28 October 2014
Sing True
"What a fun app. The pitch targets are really helpful and it's neat to see the initial waver in a pitch and then explore how to straighten, strengthen, and sustain the sound. Pace of learning is controlled by success. Can't wait to see where this goes!"
Seeforman
CA
27 October 2014
Awesome App!
It's an amazing app. Helped me a lot.
PakYuk2092
US
27 October 2014
Great app for voice & ear training
"Love that you can sing into this app and learn how to check your pitch, as well as learning ear training & breathing & other techniques. Can't wait to share this with my barbershop chorus!"
Jmeadow1
US
27 October 2014
Great app
"This is a great app. [Kinda bummed out that I could not find the in app purchases while they were free. Haha] I do like their ""your note"" concept [but they don't really explain how knowing it will help you.]"
bburt85
US
27 October 2014
Cool
Cool
Petetonygalvandaturd
US
26 October 2014
Amazing app!
"Everything I wanted in an app I found on this one! It's easy to use and the exercises are great, I can already feel difference in my singing voice "
Courteney Stewsrt
US
26 October 2014
Great potential
Awesome app! Strongly recommended to anyone interested in developing their voice and musician ears. In future versions I'd really like to see interval ear training with ability to input intervals by voice.
sat6002
US
25 October 2014
Great app!
Lots of fun and very easy to get started with. Give it a try – you might be surprised at how good you are!
spacerobot
GB
24 October 2014
Love it.
I play multiple musical instruments and recently joined a mariachi. I don't plan to become a solo singer but I would like to match pitch with everyone else. I really hope this app trains me to be able to sing and tune by ear. So far it's great.
Nathalie02
US
23 October 2014
Excellent
"Excellent and easy to use app – addictive and fun and very, helpful. My Note is A, who'd've known?"
Jameson selby
GB
23 October 2014
Great and fun app
"Great fun and practice, it also allowed me to know what my note is! Great jobs guys. Looking forward to the next modules."
Raykhan81
GB
23 October 2014
Perfect!
"I have been looking for an app like this for so long! I love how the training is split into three parts (ear, mind and voice) and how it works progressively. This app is so wonderful and I recommend it to anyone"
Coco068
US
23 October 2014
Now I know…
"Now I finally know what Randy Jackson means when he says ""yo, dog, I'm gonna keep it real and tell you that was pitchy."" Fun and informative app!"
Peterjcho
US
23 October 2014
Fun & will help you sing!
"This is a simple to use, fun app which will help you find ""your"" note & learn to sing. I would recommend."
AFJ2004
IE
22 October 2014
Great app
"Really enjoying this app. Easy to use, fun and genuinely useful!"
KatieSlater38
GB
22 October 2014
Fantastic singing aid!
Really great app. Love that you can see exactly how you improve as you go through the levels. Definitely recommend this to anyone who worries at karaoke time!
Always-thinking
GB
22 October 2014
Midlife Singing Revival
"Realising I'm not giving up on my singing this app gives me private, fun, anywhere -I -want lessons to start singing again and readying that party piece tune I never had. Sing true LISTENS to me! Love it."
MWFSD
IE
22 October 2014
Great app
"This is a great app! I think it has the potential to help a huge number of people get into music and to learn to sing in tune – even if you're ""tone deaf""!"
Millie2903
GB
22 October 2014
Great app
Good was to develop musical ability
99Lynn99
CA
22 October 2014
Simple and fun!
Great app for training yourself to sing. I really enjoyed taking the quiz and training myself in how to improve my singing. I'm just hoping it pays off when I go to karaoke!
David Cho
US
22 October 2014
There really is an app for everything!
"I can't believe how well SingTrue works, so glad I found it"
Lewis4293653
GB
22 October 2014
So addictive!
"Really fun and useful app. Addictive straight away, couldn't stop going through all the exercises. I feel like a better singer already!"
Sophdrex
GB
21 October 2014
Great fun app – and makes me feel musical
I may be addicted already!
GrahamL109
GB
21 October 2014
Love this
This is really cool – easy to follow and you can see progress quickly. I love being able to develop a new skill from an app!
e_f_n
GB
21 October 2014
Awesome
Been looking for something like this for a while. Is excellent
Triage33
GB
21 October 2014
Great for feedback
I love the fact that you get immediate feedback from this app. Singing and listening – I keep wanting to improve my score- it's great how quickly the practice shows!
Thesquashplayer
GB
21 October 2014
This one's meant for me
I've been playing sax and flute for a very long time but I've really stunk at memorizing licks let alone entire jazz solos for the simple reason that I couldn't sing them. I've come to believe that it's true that if you can't sing it you can't really play it and make it yours. My ear isn't horrible but if you heard me singing you'd say it was. I've had this app for only a day and it's already building my belief that there's no magic necessary to learn to sing accurately
Author Wayne
CA
21 October 2014
Great app
"Yes! Ive been waiting for an app like this, easy to use app with engaging exercises that have zero difficulty, definitely recommend it."
Ramzz95
GB
21 October 2014
Outstanding!
Another amazing app from the makers of Relative Pitch. They make the most effective and user-friendly apps for training your ear. Thrilled to now have something similar to train my voice. My favorite one so far!
GSC79
US
21 October 2014