Join Musical U and find your musical freedom.
Learn how to unlock your inner musicality and hone your musical "instinct", so you can make music freely and easily. With its unique approach that works for any instrument, Musical U helps members see significant improvements in just a few weeks, from as little as 15 minutes practice per day.
"After a week and a half here I am already feeling a lot more confident!" — Julie M., Member of Musical U
Have you felt limited in music?
Like you aren't a "natural"… and all your efforts just don't seem to pay off? Have you wondered if it all somehow comes easier to other people?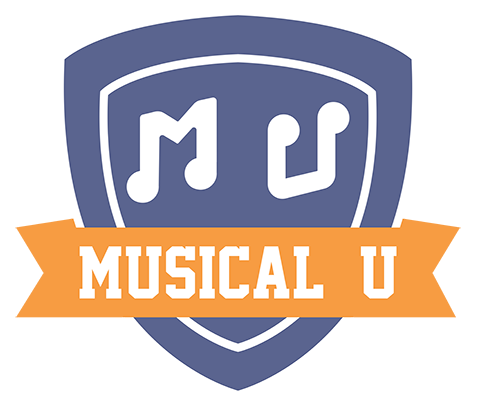 At Musical U we specialise in helping passionate musicians learn the skills they've been missing.
Skills like:
Playing notes and chords by ear
Improvising freely and easily
Getting a strong accurate sense of rhythm
Singing confidently in tune
Musical U membership includes everything you need to learn these skills and more.
Get full access for just $29.95/month No minimum commitment, you can cancel at any time 100% covered by our
Total Confidence Guarantee
Musical U is brought to you by Easy Ear Training™
As seen in:
Musical U membership includes three components which work together to help you succeed:
Training
,
Expert Help
, and
Community
.
Instant access to over $1200 worth of proven training material on every essential topic.
50 Training Modules


Covering all the essential topics, and based on material proven to reliably deliver results. Use exactly the modules which suit your musical background and goals, at your own pace, in a way which fits in with your musical life.

Six Roadmaps


Providing a detailed guide to using the training modules and additional exercises to develop "big picture" skills—like playing by ear, improvising, and singing in tune.

Over 200 Interactive Quizzes


So you can confirm what you've learned, and gradually develop the inner skills of musicality.

Downloadable Training MP3s


Compatible with any computer or mobile device, you can train anywhere and at any time—making it easy to fit in regular training and keep up your practice.

Progress Tracking


Lets you clearly see that you're improving: day by day, week by week and month by month.
"My biggest concern about joining Musical U was being unsure of the module content. I had never tried ear training exercises before and I was worried I would be dreadful at them and wasn't sure if I needed to start at some level lower than absolute beginner… However, I found that the modules contained a digestible amount of information that is worth revisiting and they didn't assume previous knowledge or experience but rather approached topics in a clear, systematic way :)"
Aliki K. Musical U member
"Before joining I was concerned whether I would have enough time to actually sit down and run through all this information and actually retain it. I wanted to be sure I just didn't sign up and then tune out. Luckily the site is structured to help guide you through all the things you want to study and keeps things focused. This means I didn't throw away my money!" Vasil V.
Personal support and guidance from an expert team to ensure you succeed.
Personal Guidance


The Musical U system allows you to use the exact modules which are right for you rather than following a single prescribed "course". This works because it's fully supported by personal help from the Musical U team.

Expert Team Available


The Musical U staff are active every day inside Musical U and always happy to help you one-on-one with your training or any technical issues you might have.

Ask Unlimited Questions


Get direct answers from the experts. No more getting stuck or confused in your training.

Progress Tracking System


Not just for your own tracking, it's designed to provide an easy way for the team to spot opportunities to help you overcome hurdles and improve faster, even before you feel the need to ask for help.
"When I found Musical U I wondered "will it turn out to be a scam like some of these things that you find online?" Now, I love it. I feel secure that help is always available, and I'll be respected for my choices, even if I work more slowly than other people or have different goals. It's great, and I'm sooooooooooo glad it's available!"
Carol F. Musical U member
"Before joining Musical U I had reservations about finding time to practice, and I didn't feel like committing to a study program, fearing that my time to practice would not be sufficient. Now I am happy I joined." Fabiano M.
Access to a friendly private community which multiplies the probability of you reaching your goals.
Friendly and Supportive Community

.
The spirit of Musical U is one of inclusivity and encouragement, and that's reflected by the community throughout the site.

Genuinely Useful

.
We don't emphasise community at Musical U because we want to just sit around chit-chatting all day. We do it because it works. Having community support helps you get better results faster. Simple as that.

Learn Faster, Together.


It's an undeniable fact that musicians learn from each other, not just from experts. Discuss your training in the Musical U community and you're sure to get help and insights you never expected.

Accountability


It's been shown to dramatically increase the odds of success. Simply sharing your goals and reporting on your progress helps ensure you actually achieve what you set out to, and the Musical U community is a supportive and safe place to do it.

Members Directory


Connect with other musicians who share your musical goals and interests, so that you can exchange tips, share progress, and cure your musical loneliness.
"I had two big concerns with joining, one with the site, and one with myself. I wasn't sure if Musical U would be as good as it promised to be. The site was exactly what I was looking for–a way to study and improve my musicality at my own pace (and at an affordable price!). I worried it was too good to be true! My second concern was that I wouldn't be disciplined enough to study regularly, and would spend money every month on a membership I didn't take advantage of. So far Musical U is as wonderful as promised. Using the site and interacting with other Musical U members is fun and easy, so I look forward to logging back in!" Allison C.
With its unique combination of Training, Expert Help, and Community, Musical U Membership can help you unlock your inner musicality, hone your musical instinct, and start feeling like a true "natural" musician.
Training
50+ Training Modules
Six detailed Roadmaps
Over 200 interactive quizzes
Downloadable MP3s
Progress Tracking
Expert Help
Personal Guidance
Expert Team Available
Ask Unlimited Questions
Progress Tracking System
Community
Friendly and Supportive
Genuinely Useful
Learn Faster Together
Accountability
Members Directory
Get full access for just $29.95/month No minimum commitment, you can cancel at any time 100% covered by our
Total Confidence Guarantee
GUARANTEED
Musical U membership is charged for on a monthly basis because we know Musical U can continue to deliver real results, month after month. We think it's only right that our guarantee works on an ongoing basis too.
Your Musical U membership is covered by our Total Confidence Guarantee.
This means that if at any time you feel you aren't getting the results you expected – whether that's because we don't have the modules you need, you just haven't been finding the time, or any other reason – and you decide to cancel, you can request a full refund of your most recent monthly payment. If you're on an annual plan, we'll even refund you for the rest of the year.
So no more worrying about whether it will work out, or the risk of paying and then not getting your money's worth.
The Total Confidence guarantee has you covered.